A big challenge for an artist like me is money framing a painting. I have another big painting on a panel that needs a frame. It's not just for the hanging or aesthetics that the painting needs a frame; panels are a little fragile in the corners and a frame protects them. I thought of a GoFundMe for $100 and then laughed at myself. It'll happen. I just don't know when.

I've also stopped the note card business except direct orders. It's a gamble at this point to order them printed professionally when THOSE costs have gone up a lot. I have found a way to print them myself — and the quality of the printed image is excellent, every bit as good as Vistaprint. Still, with postage going up so much, I imagine people will be sending less mail — may already be sending less mail.

I experimented with the Rainbow Girls in Wheatland Wyoming (aka The Three Graces) and that came out beautifully. I'm going to have to refine this for landscapes, but I'm optimistic.

I'm not whining. I have an income, few needs and the ability to choose (to some extent). The way I see it, after the past several years of craziness things are naturally going to be fucked up. Like other "bad" times in my life I figure my job is just to hold on. It's worked OK in the past. I'm just really happy I bought my house when interest rates were so low and refinanced it when they went lower. Meanwhile, I live in a beautiful place, have friends and the opportunity to simplify my life to ride this out. It's comforting and not comforting to know we're all in the same boat. I'm a little worried by the recent election in Italy, but, as I'm learning from Fromm, people turn to authoritarianism when they're scared and have lost faith. Maybe he wouldn't put it that way, but it seems to me that's what it boils down to.

One thing that's doing VERY well are the Scarlet Emperor Beans of song and story. With 23 plants, you'd expect SOMETHING to happen and it has. Several things. One I've learned is how much they like living in a close neighborhood. I've learned that it doesn't matter if you plant them directly 1 or 3 inches deep ; they're going to come up and do just as well as the ones you've nursed into being in the house. I've learned they are just very very happy to be alive, and while they "like" my attention, they prefer it ensconced in their language which is sunlight, heat and water, all leading to a chorus of "Thank you, Martha!"

I'm no Felix Mendel, but these all came from one packet of five seeds. The first year I planted one. I harvested seeds from it and, the next year, combined the seeds from that plant with those I had remaining from the packet and planted three. The next year I planted four. Then six. Then and then… They are all related to each other. I wonder if they've naturally selected in some way to do well in my small garden plot. This isn't their native land by any stretch, though the altitude is. "This species originated from the mountains of Central America. It was most likely cultivated in the highlands of Mexico and Guatemala around 2000 BC." And more.. Eat the Weeds…
The Scarlet Runner Bean has also been called …Aycoctl by the Aztecs, and Ayocote by the Spanish. It's native to Central America and has escaped cultivation in many areas. This bean is still on the home kitchen menu in its original range but the rest of the world grows it as an ornamental. Lots of folks also use it as a nectar attraction for hummingbirds and butterflies. Historically, Scarlet Runner Bean was in English and early American gardens by the 1600s.
There are some dozen and a half cultivars now. (Cultivars are made by man, varieties are made by nature.) The Dutch Phaseolus coccineus v. alba has white flowers. The "Butler" is stringless, "Painted Lady" has red and white flowers, the "Kelvedon Wonder" is an early variety with long pods, "Sunset" has pink flowers, and the "Scarlet Emperor" …has scarlet flowers. Under right conditions the Scarlet Runner Bean is the most productive of all the planted beans.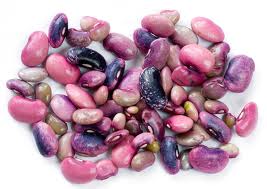 I think next year I'm going to try a new system because this year's system – with all those plants – wasn't great. It wasn't even a "system." It was kind of "Oh shit, what do I do now?" My past methods didn't work with so many plants. Then, because most of the light is at the top of 8 to 10 foot plants, they got top heavy. Reaching for the sun, a couple almost fell over. I guess I have a few months to research wires/netting etc. Anyway, out of this strange summer, that began with my not even wanting to mess with a garden, I have learned a lesson. Mess with the garden. It might be the best part of the whole show.